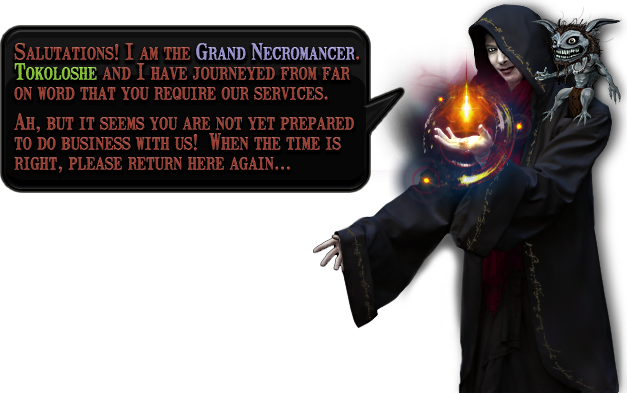 Several reports have come through regarding a vampire calling himself the "Grand Necromancer", who has been said to have mysteriously broken into Sanctums Darkside wide. If that's not enough, it's been stated several times via witnesses that this Necromancer has a strange familiar reportedly named "Tokoloshe".

What exactly the purpose is of this enigmatic twosome is something of an intrigue to us all, but suffice to say that if this Necromancer actually is a "grand" one, he could very well be using his powerful necromagic to teleport wherever he may please.

Very little information has been gathered on this Tokoloshe creature who accompanies him, but there is enough to know that Tokoloshe seems to be something of an African spirit demon who has a fondness for eating toes.
As always you can count on your Scream Team to deliver all the latest facts of this and many other things that take place on the Darkside. Until then, be weary of your vampire toes, make room in your Sanctums for strange necro-men, and always but always love your news.